SmallRig MagicFIZ Wireless Follow Focus Basic Kit 3781
SmallRig MagicFIZ Wireless Follow Focus Basic Kit 3781 is designed to provide a precise and low-latency follow-focus experience for video shooting. The Wireless Handwheel Controller has a 1400mAh battery for a battery life of approx. 20h and power-failure memory function that spares you from repeated lens calibration and AB point settings, thus improving shooting efficiency. Ultra-low-power 0.96" OLED screen with RGB lighting effect and vibration warning provides a simple but efficient interaction experience. It works with a multi-functional Wireless Handgrip (ID: 3917) in controlling the focus and zoom of the Wireless Receiver Motor for as long as 29 hours. The Wireless Receiver Motor supports fast charging and provides 9V/18W and 0.5N.m torque output. It can be powered by Battery Plate (ID: 3777) with NP-F batteries or by D-Tap to USB-C Power Cable (ID: 3266) and DC to USB-C Power cable (ID: 3268) with V-Mount batteries. The whole system has a remote control range of up to 100m in open areas and also supports lower-latency control with Wireless Handgrip 3780 and USB-C cables for more stability. Its BLE module helps in wireless REC start/stop which can also be realized by control cables (ID: 3325, 2971, 2970, depending on your camera type) with Wireless Receiver Motor. With modular design, high precision BLDC control algorithm, and anti-interference encryption algorithm, the wireless follow focus system brings you quick release and precise, stable focus experience for handheld, head, tripod shooting, and director monitoring.
Note:
1. Wireless Receiver Motor and Wireless Handwheel Controller can be operated only under the same frequency band and number.
2. Calibration is required when Wireless Receiver Motor reverses rapidly or the Wireless Handwheel Controller screen displays abnormal location information.
3. Please check anomalies when there is a vibration warning from the Wireless Handwheel Controller.
4. For instructions, please refer to the Wireless Follow Focus System User Manual.
Supports different camera types via control cables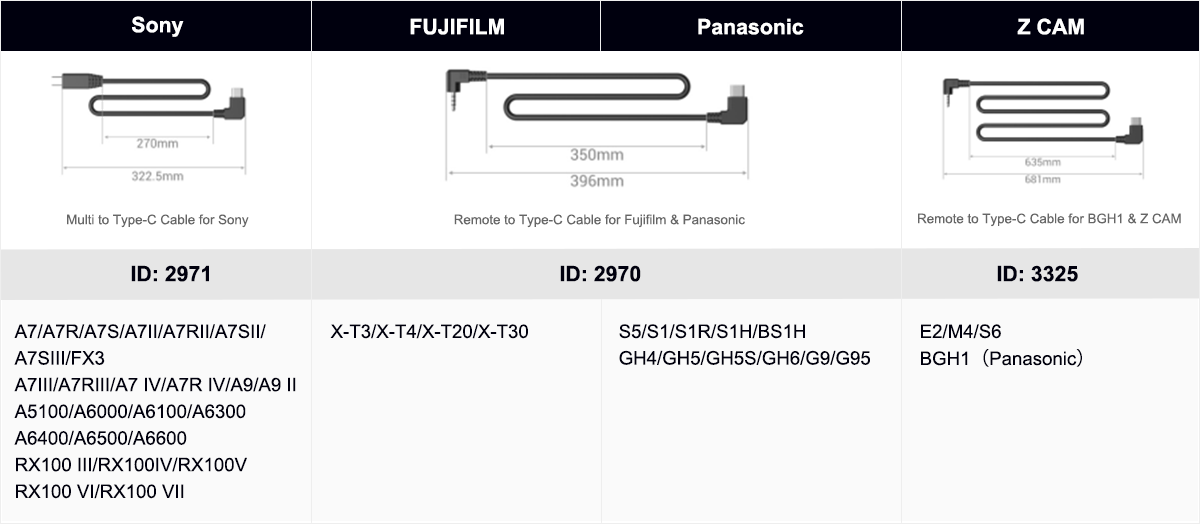 Supports different camera types via BLE

Work With
1: Φ49/Φ52/55/58/62/Φ67/72/77/82/86/80/85/90/95/114mm DSLR camera lens and cine lens
2: Φ15 rail support system
3: M0.8 lens and follow focus gear ring
4: Incompatible with a non-SmallRig wireless follow-focus system
5: NP-F batteries
6: Supports fast charging
7: Cameras with REC function
Packing List
1 x Wireless Handwheel Controller
1 x Wireless Receiver Motor
1 x Battery Plate
1 x Handgrip Adapter
1 x Φ15 Rod
1 x Rod Clamp with NATO rail
2 x Snap-on Follow Focus Gear Ring
1 x USB-C to USB-C Cable
1 x Follow Focus Marking Disk (Silicone)
1 x Spanner
1 x User Manual
1 x Carrying Bag
Technical Data
Product Dimensions
Wireless Handwheel Controller: 77 x 69 x 54.7 mm
Wireless Receiver Motor: 105 x 48.5 x 32.5 mm
Package Dimensions: 212 x 202 x 95mm
Product Weight: 493g±5g
Package Weight: 1103g±5g
Material(s): AL6061, ABS, PC, Silicone